Video games have had a pretty negative reputation during the last few years but what if it could actually help surgeons along with other medical professionals doing their work? Imagine a world where these heroes are trained to do what they do best in a digital environment. VR surgery has proven to deliver efficient results and created a more risk-free situation with every procedure. Medical technology has radically evolved over the past few years. Many companies are capitalizing on this. Here are 10 companies involved in the digital evolution of the OR. 
Proprio
Proprio uses machine learning & AR to create precise 3D images. This helps surgeons see through obstructions. The built-in AI platform stores data in real-time. Proprio runs pilot programs in neuro-orthopedic surgeries in hospitals in Seattle. 
ImmersiveTouch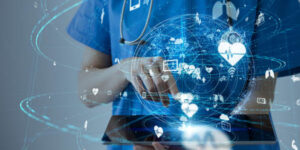 This company creates VR solutions for surgical planning & training. The platform creates 3D replicas from patient scans, allowing surgeons to collaborate & plan surgical tactics. It uses the Oculus Rift which allows surgeons to use a wide range of tools.
 
TrueVision
TrueVision creates 3D digital visualization technology along with AR tools that support surgeons in neurosurgery & microsurgery. Their main product is the Digital Microscope Platform. It converts existing microscopes into digital surgery systems that produce AR & 3D images. 
EchoPixel
EchoPixel offers its interactive virtual reality surgical platform to doctors. The platform allows doctors to identify specific anatomy to enhance medical images in real-time.
OSSO VR
This virtual reality surgical platform offers realistic hand-based interactions. The VR focuses on practicing with tools that surgeons will generally use for orthopedic & spinal surgeries. It has developed its platform for collaboration along with collaborative training. 
FundamentalVR
FundamentalVR lets surgeons sharpen their skills & practice procedures by delivering haptic simulations. The haptic technology gives surgeons a realistic feel of the tools by giving off vibrations. The life-like platform prepares them for the real thing. 
SentiAR
This company's holographic AR platform is designed for intraprocedural clinical use. During a procedure, surgeons can view a 3D image of specific anatomy as it floats above the patient in real-time. The visualization is hands-free which gives surgeons in-depth insight during a procedure. 
Proximie
Proximie offers surgeons an AR suite of tools to help them find ailments in patients and describe surgeries using 3D models. They can use the technology to scan a patient's body to point out health problems. They can also show patients how surgery will take place step by step. 
Surgical Theatre
Surgical Theatre created a VR-based Surgical Rehearsal Platform that allows surgeons to plan their neurosurgical procedures. It scans 2D brain images, then creates 3D models. These are then used to guide the surgeons through the procedures. It also enables the surgeons to explain to their patients how the surgery will be conducted before it takes place. NYU, The Mayo Clinic, and UCLA have all used this platform to explain surgeries to their patients.