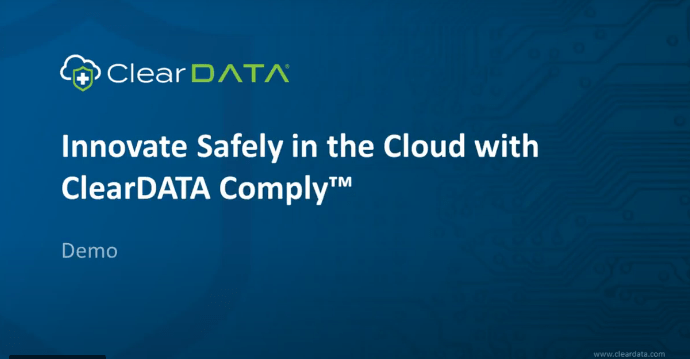 The leader in healthcare public cloud security, compliance, and privacy, ClearDATA, announced an expansion of the company with its compliance management product. ClearDATA Comply Sofware as a Service (SaaS) will now include Microsoft's Azure Cloud Services. With this enhancement, more products and services can now use Azure's IaaS and PaaS cloud services whilst minimizing the risk of security vulnerabilities. The platform protects sensitive data and it is designed to immediately detect and remediate compliance deviations. This helps healthcare organizations to meet compliance obligations throughout the lifecycle of an application. 
ClearDATA's Chief Product Officer, Suhas Kellar, stated that PHI is extremely sensitive and requires a sophisticated partnership of cloud expertise along with comprehensive compliance to keep it secure. Kellar further said that Comply allows healthcare organizations to leverage power, flexibility, and inherent security of the Azure cloud with greater confidence. As of today, the solution automatically adjusts 70 controls over 32 of the most popular Azure services for sensitive patient data. ClearDATA has been made a Microsoft Gold partner and has been managing security, compliance, and privacy solutions on Microsoft Azure since 2015. The company will further collaborate with Microsoft to enhance its security measures even more. 
David Houlding, Director of Healthcare Experiences at Microsoft, stated that digital patient care is providing more data to doctors which allows healthcare organizations to leverage Azure's platform. He further stated that ClearDATA's availability in the Microsoft marketplace, they have managed to marry Microsoft's strong cloud services and ClearDATA's deep understanding of complex healthcare regulations. ClearDATA co-founder, Matt Ferrari, emphasized this by saying that advanced Azure services are driving rapid healthcare innovation and ClearDATA is exciting to investing in something that will pay off in the long-term. He further mentioned that the partnership with Microsoft will turn out to be a strategic advantage. 
Many valuable healthcare organizations have already made use of the collaboration between ClearDATA and Microsoft and the results are very positive. BehaVR, one of the implementers of the platform, is a provider of VR therapeutics and wellness programs for behavioral health. The company uses Comply for Azure to manage the enforcement compliance and security of their application. This allows their development team to focus on creating innovative virtual reality for healthcare platforms. It frees up their time instead of letting them navigate compliant cloud environments and figuring out how to configure them. 
The Comply multi-cloud solution from ClearDATA was released in December 2019 and it was made available at an earlier stage to Amazon Web Services. Its expansion to include Azure allows it to provide a multi-cloud view of compliance within a single pane of glass. The demo version of ClearDATA Comply will be available during HIMSS 2020 and it will showcase how providers can avoid security, compliance, or privacy driven incidents. It will also demonstrate how innovative ClearDATA solutions are along with demonstrating how well it protects its customers from any potential risks by providing them with a stable infrastructure.