Realmax, one of the tech giants in Shangai, announced the preview of the Realmax Qian augmented reality glasses as well as the Realmax Studio Creation platform. This announcement served as a preview for what visitors can expect when they visit the Realmax booth at CES later this year. Realmax has been designing robotic technology for some of China's leading universities for almost 15 years. In 2015 the company assembled a team that included leaders from tech companies around the world. Their mission was to expand human understanding to make augmented reality accessible to everyone.
The Realmax Qian glasses are a major product from this team of developers. They are self-contained, portable, and they boast a field of view of 100.8°. This is a wider range than any AR smart glasses that are available at the moment. Users can enjoy authentic and immersive experiences in VR from a single device. The company also integrated what they call '6 degrees of freedom' active tracking. This allows people to move from scenes that blend reality and virtual content seamlessly. Users can also interact with virtual objects through integrated hand tracking and gesture recognition technology.

The smart glasses are also VR compatible and offer almost 180-degrees of see-through optical visibility. This allows the user to transition between different levels of immersion without ever losing the enjoyment of the moment. Its comfortable frame only weighs 450 grams and it is compatible with prescription glasses. This is an important point to note because many consumers are apprehensive when they show interest in AR glasses because they don't know if they will be able to wear it. The lightweight design also makes it possible for professionals and enterprises to use it in their workforce.
The second development from the company, Realmax Studio, a web-based AR development platform that allows for the creation of AR apps by using a wide range of tools. Some aspects that developers can look forward to is working on Unity, sharing and distributing mixed-reality experience through any browser or HTML site. The platform has been built in collaboration with ARToolKit. It can help in creating realistic 3D educational experiences. It assists content builders to publish for advanced devices like the Qian glasses. It enables phones that support Apple's ARKit and Google's ARCore.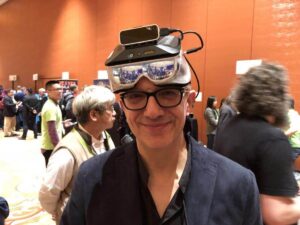 CEO of Realmax, Jackie Yu, said that the Qian glasses give ample opportunities for young developers to test their skills and take them for a drive. Students in remote locations will also be able to explore the technology to benefit from it as if they were in a real laboratory. According to Yu, this makes the technology accessible to everyone. The company's CTO, Nigel Burton, emphasized Yu's point and said that it is a technological breakthrough in mobile technology. He added that the Realmax Studio will open up a new world to educators, retailers, and entertainment companies to deliver innovative apps and experiences that can be shared with millions.
June 18, 2018