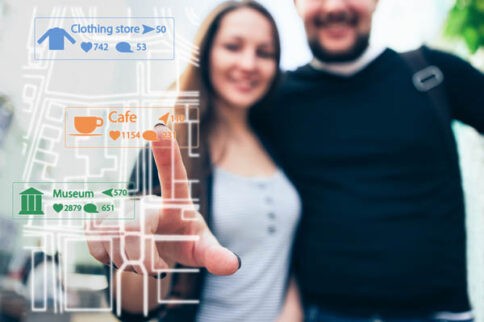 Many industries are using augmented reality technology to improve the functioning of their working environments. Companies use AR technology to build their brands. Hotels can integrate AR apps with CMMS (Computerized Maintenance Management System) or EAM (Enterprise Asset Management).Here are a few examples of how AR has already made an impact with improvements in the hospitality industry.
Interactive hotel rooms
Hoteliers have started using AR technology to create interactive experiences in the guests' hotel rooms. It widens the services they offer. It adds value to the customer's stay at the hotel. One example would be to create an AR-based print marker out of a painting hanging in the room. The guests would then be able to point their smartphones towards the painting. By scanning the image they will receive a showcasing of the city, the hotel, or a brief history of the country. Hoteliers could even upload a list of tourist destinations that guests can explore via this AR app. 
Gamification
After the huge success of Pokemon Go, everyone is out there trying to create another AR-based game. This is good news for people who are trying to create an immersive AR experience within their businesses. The hospitality industry can create a gaming experience for its guests as well to boost client engagement. Hotels can offer games where guests can win discount coupons at nearby restaurants or vouchers for a service within the hotel. Hoteliers can also design apps that will allow customers to further explore the hotel and other establishments owned by the owner. 
Augmented hotel environments
Many hotels have integrated augmented reality into the hotel environment so that the experience is more enjoyable for the clients. For example, some hotels have created an AR experience where guests point their phone to scan code then an AR version of a celebrity pops up. This is a fun activity where guests can take selfies or photos with the 'celebrity'. 
Beacon technology
Beacon technology is all about providing information to customers within a particular location by using Bluetooth. It is a great way for marketers to shoot information along with advertising to customers when they arrive at their hotel. This technology can also be used to create virtual keys that customers can use to access their rooms. 
The benefits of AR technology in the hotel industry aren't only limited to the guests. Hotel staff can use AR apps to increase engineers' productivity and decrease costs to keep them safe. When incorporated with AR technology, the CMMS can provide automated tools so that maintenance along with service staff can schedule maintenance, inspection, and inventory management more effectively. Adding machine learning algorithms to the CMMS system will allow managers to assets better which will reduce maintenance costs. 
There are endless possibilities in the hotel industry when existing systems are paired with AR technology.