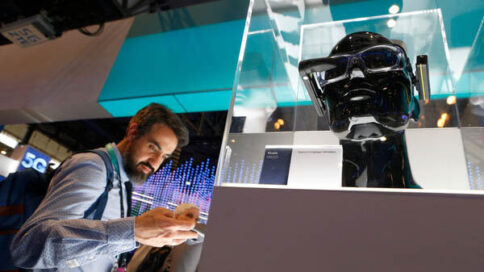 Amazon won't be the first company to let Alexa feature on AR glasses because it seems as if Vuzix has taken a liking to her as well. CEO of Vuzix, Paul Travers, revealed that the company will be releasing its own set of AR glasses in 2018. Very little information has been released regarding the AR glasses but it is known that Alexa will be playing host to the voice-activated part of the glasses. Alexa will be responsible for displaying information inside the glasses.
The glasses use and Amazon Alexa licensing program which allows external parties to implement the technology in a variety of products. The technology has been commonly used in speaker sets and smartphone docks but Vuzix will be the first company to implement it in AR glasses. A spokesperson from Amazon confirmed the Vuzix product and further stated that the company was excited about the potential of the product. It opens up new possibilities for the glasses and for Amazon to get involved in other projects that can contribute to their already stellar reputation. As far as trends are concerned, AR is the key to the future for many companies.
The Amazon Alexa-embedded glasses will be released in the second quarter and consumers can expect a price tag of $1,000. The company hopes to bring the price down to $500 by 2019. Vuzix has been working on video eyewear since it started in 1997. The company announced that they will be launching the Vuzix Blade AR Smartglasses at the 2018 Consumer Electronics Show. The glasses will come with a companion app that can connect to Android or iOS devices as a data source. This makes it accessible for most smartphone users.
This is not the first time that Vuzix will be at the CES. The company has won awards for 13 consecutive years and they have all been for the company's contribution to video eyewear with other related technologies. It is clear that they have built a solid foundation for themselves over the past few years. They have the resources to back up any revolutionary device that they decide to develop. By creating the Blade smart glasses, they are showing other big tech giants that they are not the only ones in the playing field anymore.
This is not to say that big tech corporations are taking a back seat. Apple is in the process of developing its own set of AR glasses. Apple CEO, Tim Cook, said that the technology has not been released yet because the company wants to release a quality product. He stated that there are many challenges associated with putting glasses like that on and the display technology needs to be perfect. According to him, optics requiring an adequate field of view and the display itself will be the selling factors. The technology needs to be fully developed so that the consumer can be satisfied.
January 5, 2018