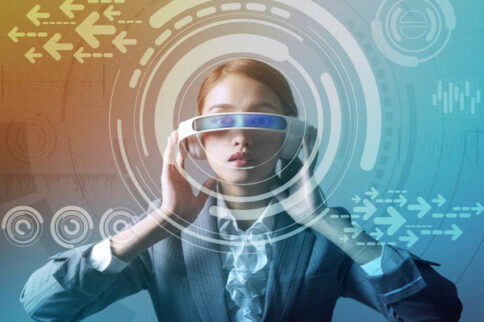 In March 2019 Huawei introduced its latest innovation in Paris and fans were incredibly excited. The Gentle Monster Smart glasses were set for release in the summer of 2019 but the date drifted further away to November 2019. Shortly after the company's early release of their new smart glasses, Samsung released its first patent for smart glasses. It is quite detailed. These two tech giants have thus created a sense of competition in a very short amount of time. It is leaving tech gurus waiting in anticipation. 
Last month the US Patent and Trademark Office published Samsung's second smart glasses titled 'Optical Device'. There is no further information given on the title of the glasses. It is clear that after development & production Samsung will give it a more formal name so that it can hit the shelves. The pair of glasses has been demonstrated by many figures and shows a 'first augmented reality providing device' a 'second augmented reality providing device'. The support frame is also said to be sturdier to provide support to the face, the temples, and the head of the wearer. 
The patent revealed that the lens would be curved and that it can be formed in various suitable shapes other than polyhedron. Other shapes include a circular cylinder, an elliptical cylinder, a semi-circular cylinder, a semi-elliptical cylinder, a distorted circular cylinder, and/or a distorted semi-circular cylinder. The glasses will also aim to expand the area of the flexible display device visible to the user's eye. The lens may thus include a plurality of first reflective members, a plurality of second reflective members, a plurality of third reflective members and a plurality of fourth reflective members. This has all been done to ensure that the smart glasses have everything that the user needs. 
The first, second, third, and fourth reflective lenses will each be smaller than the pupil of the user's eye. As an example, it is illustrated that if the reflective members have a diameter of 4mm each, it might be difficult for the user to recognize these reflective lenses because the user focuses on the real image. The patent figures show that instead there is an alternative elliptical cylindrical shape used where the lens is formed. The elliptical first and second lenses will be present and it will be supported with a side surface. 
The patent application filed under Samsung is titled 'Optical Device' (20200026084) and it was published on 23 January 2020. It was filed in July 2019 in the US and in July 2018 in Korea. The technical patent contains 33 figures which covers several design concepts. The patent history of Apple shows that the company has several teams working on different and unique innovations at any given time. These include everything from entry-level glasses to more sophisticated smart glasses and further on to advanced Mixed Reality HMD devices. The extent of Apple's products and patents can be viewed online.