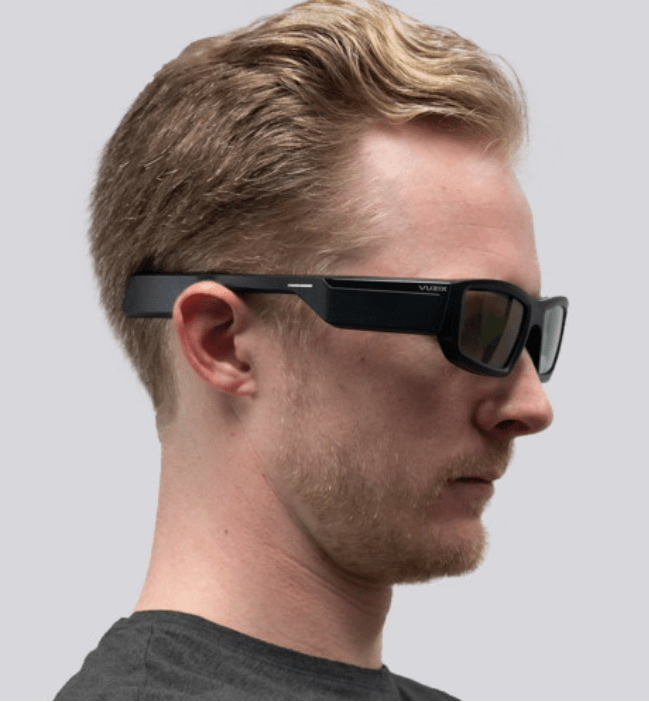 The latest headset from Vuzix will be introduced at the Consumer Electronics Show in Las Vegas. The company is a producer of head-mounted displays and they are still new to the AR-market. This does not mean that they are scared to take on the growing AR market. It is said that their smart sunglasses will be more mainstream and may remind visitors of Google's latest project, Google Glass. This is a first for Vuzix and it is yet another exciting addition to the field of AR wearables.
The Vuzix Smart Sunglasses might seem like an ordinary pair of sunglasses at first but underneath the sleek design, it has everything we loved about Google Glass. It can project information in your field of vision, it can connect to the internet, and it has a built-in camera for capturing images and recording videos. The best aspect about these glasses is that it eliminates the need for you to have a smartphone glued to your hands the whole day. All your emails, Facebook notifications, and Twitter notifications are displayed in your real-world view. You can access data without even lifting your hands.
The company said in a statement that the AR glasses come right out of the box and provide you with everything you need. It offers hands-free access to all notifications that you would normally have on your phone. They also released some of the features of the glasses. It has full-colour AR overlays, a quad-core ARM-based chip, an 8MP camera with supporting 1080p video, noise-canceling microphone, and head tracking sensors. The glasses, named Blade, were originally designed for enterprise use, but the company has made it clear that it can be integrated with any industry for optimum performance.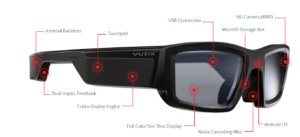 The Vuzix Blade is the perfect way to supplement your Android or iOS smartphone and allows users to always stay connected. It allows the user to seamlessly pair these two devices together for an integrated experience. Blade is powered by Android which means it will be available to all developers. The apps and services will appear in a built-in App Store but Vuzix did not say whether it will directly support Google Play apps or if users can sideload Play apps into the local Android operating system. All of this will be made clear once the glasses have been released to consumers for purchasing.
Users who want to pre-order their first pair of smart sunglasses might have to wait a while because the company has not yet released a specific purchasing price. They have, however, released a developer kit that users can reserve for $495. The kit consists of the company's developing software, a preproduction design verification testing unit, and a production unit. There has also been no news regarding the release date of the product. In a world where technology is rapidly evolving, it would seem as if consumers will have to contain their excitement just a little bit longer before they can dig into this one.
June 15, 2018