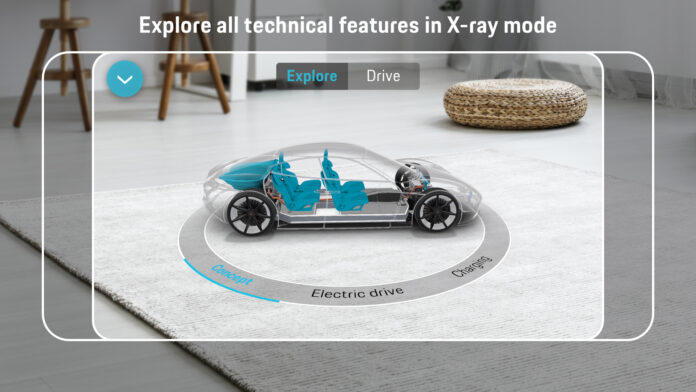 The past few years have shown an increase in virtual and augmented reality technology across different sectors. It would seem that VR had to start walking so that AR could start running and the unfortunate result is that VR is getting left behind. Luckily, we still have AR technology. With all of the support it has been getting from all over the world, it is available on all modern smartphones. Understandably, we have the temptation to drop digital furniture in our room or add virtual characters to our selfies.
The automotive industry did not miss the big AR boom and Porsche was one of the earliest adopters of this type of technology. It released an app that lets you drive a miniature Mission E around in your living room and you even get to sit inside a virtual cockpit. After the huge technological success of this initiative, it is now bringing a hardened experience to its dealerships through a system it calls Tech Live Look. It is said that this system will change the way drivers experience Porsche forever.
Tech Live Look consists of a pair of glasses that look a lot like some famous AR headsets like Google Glass. Even though it might look and feel similar, the implementation is much different. The glasses have been specifically designed for Porsche by ODG. It relies on a pair of transparent displays that sit directly in front of your eyes. This contrasts the Glass that has a single, small display that sat at the edge of your view. Where the Glass previously served as a notification device, Tech Live Look as a more functional task: it gives Porsche service technicians hands-free access to all the data in the cloud.
The bigger advantage, however, is that the glasses can make direct calls to a remote Porsche technician. As soon as the technicians are connected, the remote technician can see what the on-location mechanic is seeing and can then help with complex issues from a distance. This eliminates the need for tedious back and forth exchanging of information. The remote technician can tell the on-location technician exactly what to do and guide them through the process. They can even draw on the video to indicate where to look or where the problem lies.
Tim Stevens, editor at large for Roadshow, had the opportunity to experience this remote troubleshoot first-hand at Porsche North America HQ in Atlanta, Georgia. An obscure error was thrown out by a new Panamera Sport Turismo. He is able to make a wireless connection and immediately to a remote Porsche expert who could then guide him through the troubleshooting process. The code showed that there was a fault from a specific sensor. The first step was for Stevens to verify the status of the connectors on the sensor's plug. The wireless voice guided him to where the plug was and showed him where exactly to look under the hood by drawing a big circle on the video. Eventually, he found that one of the wires wasn't tight enough.
His helper then sent him a special wiring diagram. It was overlaid within his field of vision, he could identify the problematic wire. He then explained to Stevens how to use a special tool that would disconnect the wire from the sensor's connector. Stevens could easily see how the crimping was malformed upon extraction. The technician confirmed and verified the problem through the camera. The entire process took about 5 minutes. It showed that the Tech Live Look Glasses cut down support time by 40%. This not only reduces costs for warranty repairs but it also allows customers to get their cars back quickly. No wonder these glasses are priced at per pair.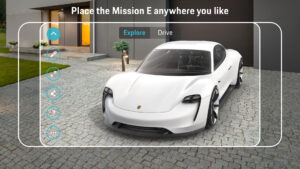 President and CEO of Porsche Cars North America, Klaus Zellmer, stated that the initiative is good for customers. They get their car back sooner. It is just as good for dealers because they get that stall cleared up faster. If you calculate the average billable rate of a mechanic and figure a 40%-savings, the payback is very quick. Zellmer said you can see your car again in less than a week.
Porsche recently demonstrated the glasses and its abilities to other companies at a recent sales conference and the glasses were met with excitement and awe. According to Zellmer, after the presentation and the demonstration, 75 of the company's US dealerships signed up immediately. The rest of the 189 will be online by the end of next year which means that every dealership will have AR glasses present in their service bays and fast chargers out in the parking lot. And at home, there will be more than enough happy Porsche owners.
The company has no plans to make these glasses directly available to consumers who might want to do their mechanics at home. They still want their loyal drivers to show their faces at the dealership, even if it is just for remote support. But at least drivers will know that when they do arrive at the newly kitted-out, tech-friendly Porsche dealership, the person who is doing the troubleshooting will soon have the power of the hive mind behind them. And, indeed, two heads are always better than one.
The power of AR/VR technology might not be as widespread as people back in the day believed it would be but it is slowly making its way into the economy, especially when it comes to AR technology. The Porsche Tech Live Look is a great example of how a basic idea, ie. smart glasses, can be transformed into a useful tool that people will not be able to work without in the next few years to come. It improves efficiency, productivity, and it sends a very happy Porsche driver back home.
29 May 2018